Daktimmer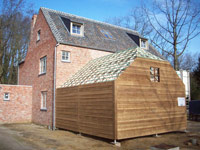 Een nieuw dak nodig , voor nieuwbouw of renovatie ? 
Dan bent U aan het juiste adres.U bent vrijblijvend welkom met uw ontwerp
of definitief plan waarvoor wij  vrijblijvend een passende offerte kunnen overmaken.
Patrick bespreekt met jullie uitvoerig de verschillende aspecten en mogelijkheden.
Hiervoor mag U dan een offerte verwachten, en indien wenselijk wordt deze
met U besproken , al dan niet met de architect.
Indien we tot een akkoord kunnen komen , vragen we wel om de metser
eventueel ons tijdig te contacteren om ook met hen
de voorziene werken te overlopen, zodat hij ten alle tijden vb draadstangen op de juiste afstand
inmetselt indien deze nodig zijn,
en dat de stelkepers ook tijdig geplaatst kunnen worden voor het volledig opmetselen van de puntgevels.
Concrete afspraken = perfecte uitvoering.
Dit is voor alle betrokken partijen de beste samenwerking.