Binnenschrijnwerk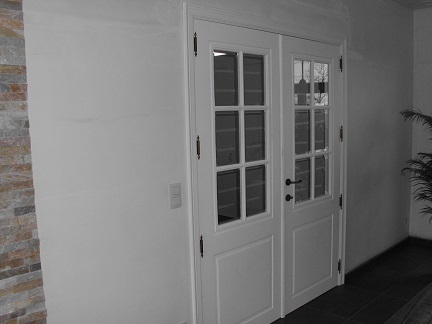 Binnendeuren, rolluikkasten, venstertabletten, lambrisering, U kan het zo gek niet bedenken of wij zorgen voor uw perfecte afwerking.
U kan bij ons een keuze maken, of in een toonzaal van de deurleverancier waarmee wij samenwerken.
Van een gewone vlakke schilderdeur – Designdeur met uitfrezingen, massieve deuren om te schilderen, blokdeuren, en deze allemaal op maat verwerkt in onze eigen werkhuizen.
Voorzien van standaard alu scharnieren, koper,inoxlook,zwart….met bijhorende deurkruk.
Van zodra de woning bezet is door de plafonneur komen wij de exacte maten opmeten en kijken wij of deze overeestemmen met de offerte.
Naderhand worden de deurbladen besteld en worden deze plaatsklaar gemaakt met de door U vermelde wensen.
Dus maatwerk is voor ons geen probleem.
NOTA / Kasten en keukens ( lees interieur,  doen wij niet .)